02 May

Wow Wedding Guests
16 Ways to Wow Wedding Guests
Yes, the cake, gown and centerpieces are all important, but these are our top tips for making sure your wedding is the most talked about event of the year. ​
Welcome Them With Themed Goodie Bags or Boxes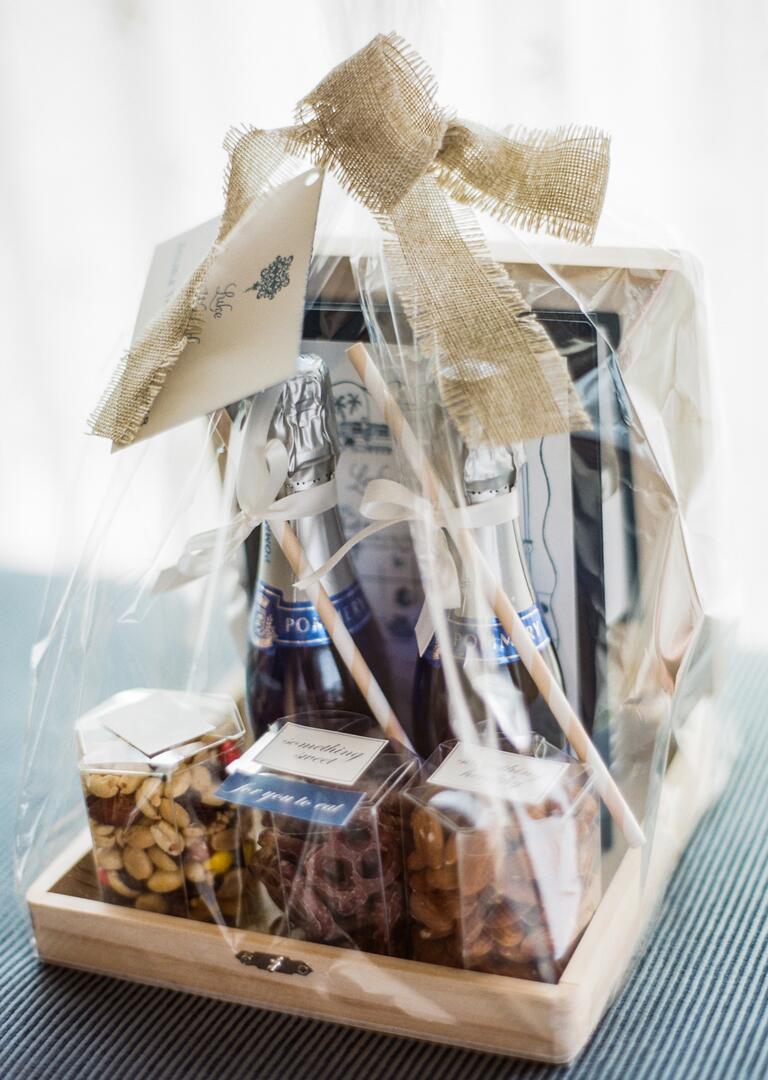 Make sure the fun and enjoyment begins from the moment guests arrive by giving them a wedding starter kit. Stuff personalized tote bags with mini bottles of bubbly or a six-pack of a local microbrew, a custom scented soap so they don't have to rely on the standard hotel samples, a map marked with all your favorite local haunts, a gift certificate to your go-to coffee shop and an individual "Welcome!" note from you.
Anticipate Their Needs Before They Do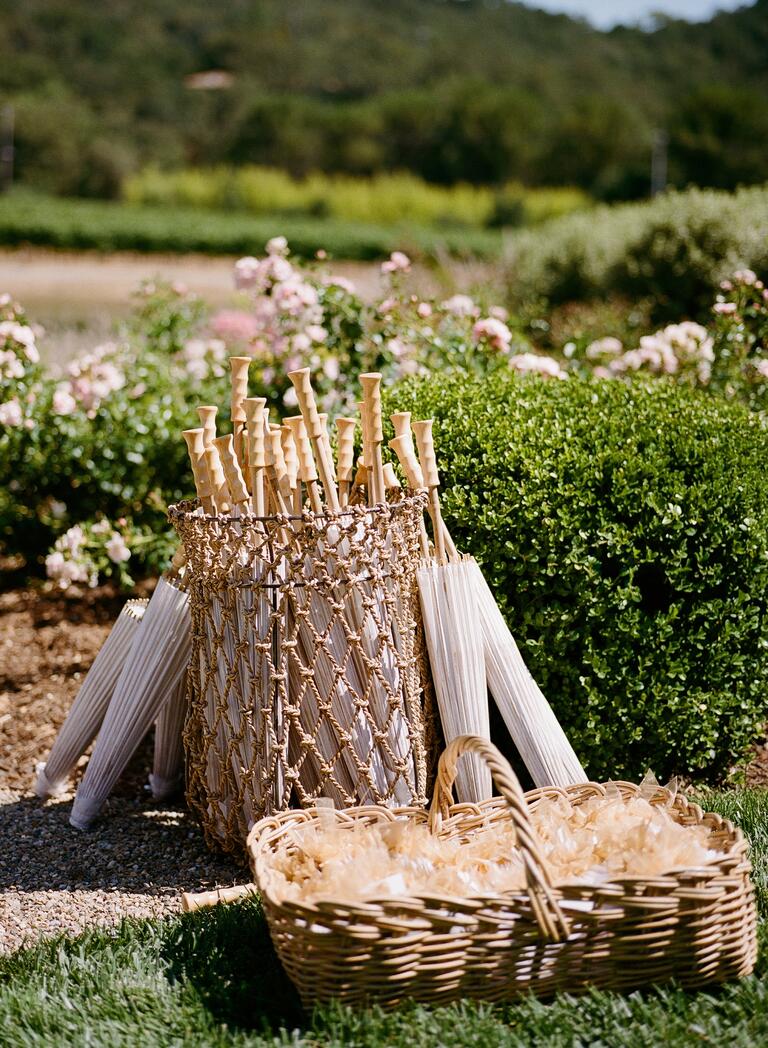 You're not the only one who needs a day-of emergency kit. Having a basket in the restroom filled with the essentials, from those handy wipes that remove red-wine lip stains to mints, is a great place to start. Then think what they'll need outside the restroom. Baskets of flip-flops (in your wedding colors, of course) make it easy for guests to take their shoes off. And if it might be breezy, keep guests warm by offering up some cozy pashminas. For an outdoor summer afternoon ceremony, provide a station with spray-on sunscreen and a stack of inexpensive sunglasses.
Make It Social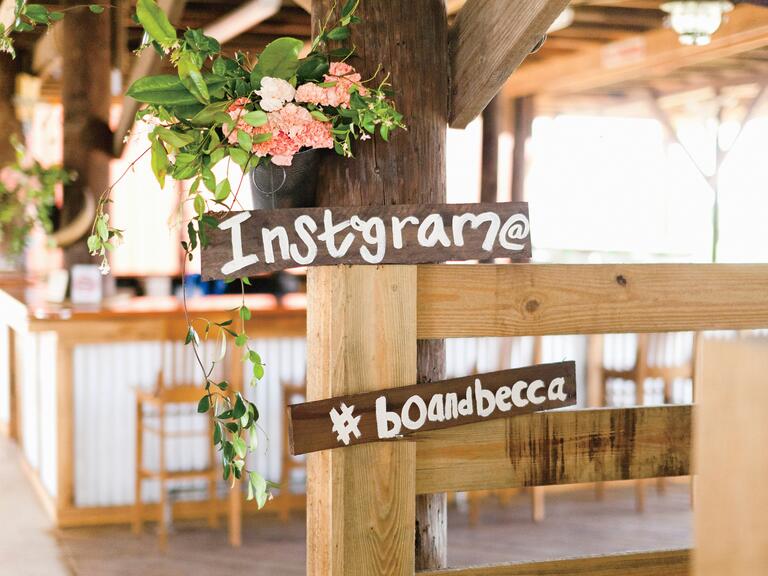 It's inevitable—guests are going to be on their phones at some point during your wedding, so make it part of the party. Create a wedding hashtag and post signs to let guests know. Then project a stream of the photos live. You and everyone else will enjoy seeing how much those around them are hamming it up for the camera and having so much fun they just can't help but document it, whether it's a silly bathroom mirror selfie or a slo-mo reel of your cake face smash.
Shuttle Them in Style With Creative Transportation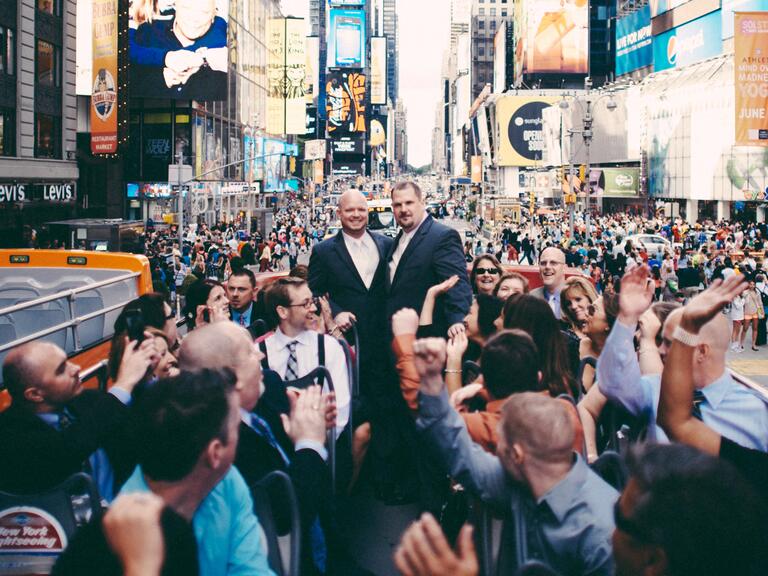 If your ceremony and reception aren't in the same place, you have the perfect opportunity to make the journey part of the fun by renting some seriously cool mass transportation. We're not saying you have to go nuts and have a fleet of hot-air balloons (that would be pretty cool though!), but why not make a small a detour and take everyone sightseeing on an open-top double-decker bus. And for extra flair, customize the ride with a playlist that gets everyone amped for the party, or deck out the bus with a sign that reads, "John and Andy's wedding or bust!"
Make Them Feel Taken Care of With Reception Ushers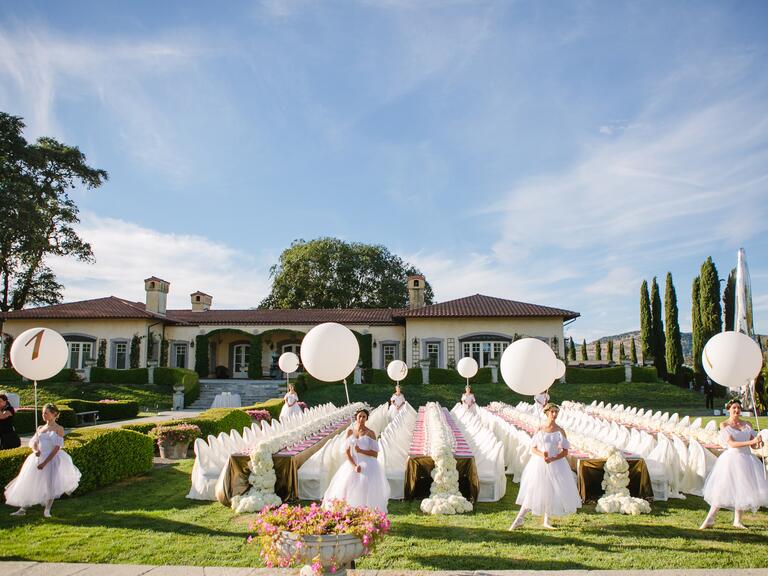 You may already be planning to have ushers help guests to their ceremony seats, but consider having reception ushers too. These "live escort cards" walk guests to their tables for an upscale restaurant experience. Ask your reception venue or caterer if their waitstaff can perform this duty, or assign a few ushers to do the job.
Accessorize Them With a DIY Flower Station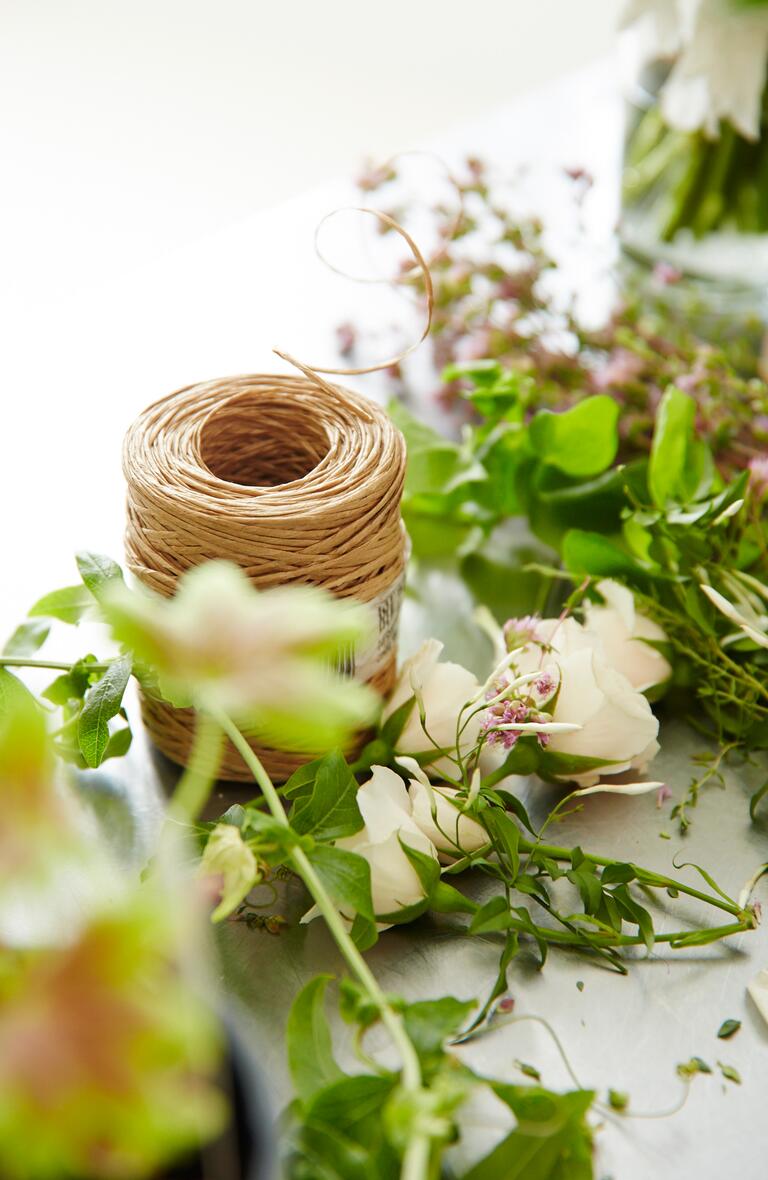 Help Them Break the Ice With a Friends-and-Family Seating Chart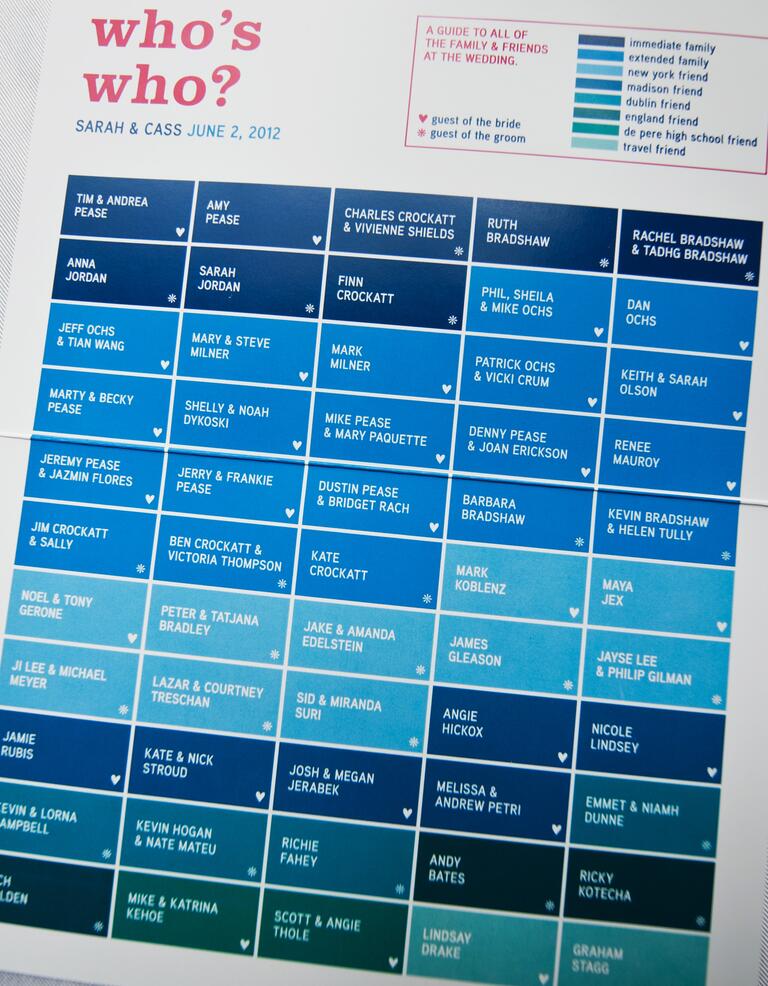 You worked hard on figuring out that seating chart, so get the dinner conversation started by showing guests how they're connected. Use a map to show where everyone has come from or photos of each guest to show your relationship with them. It's a great icebreaker for those who haven't already met.
Make the Drinks Interactive (Think: Tasting Station or Bubbly Bar!)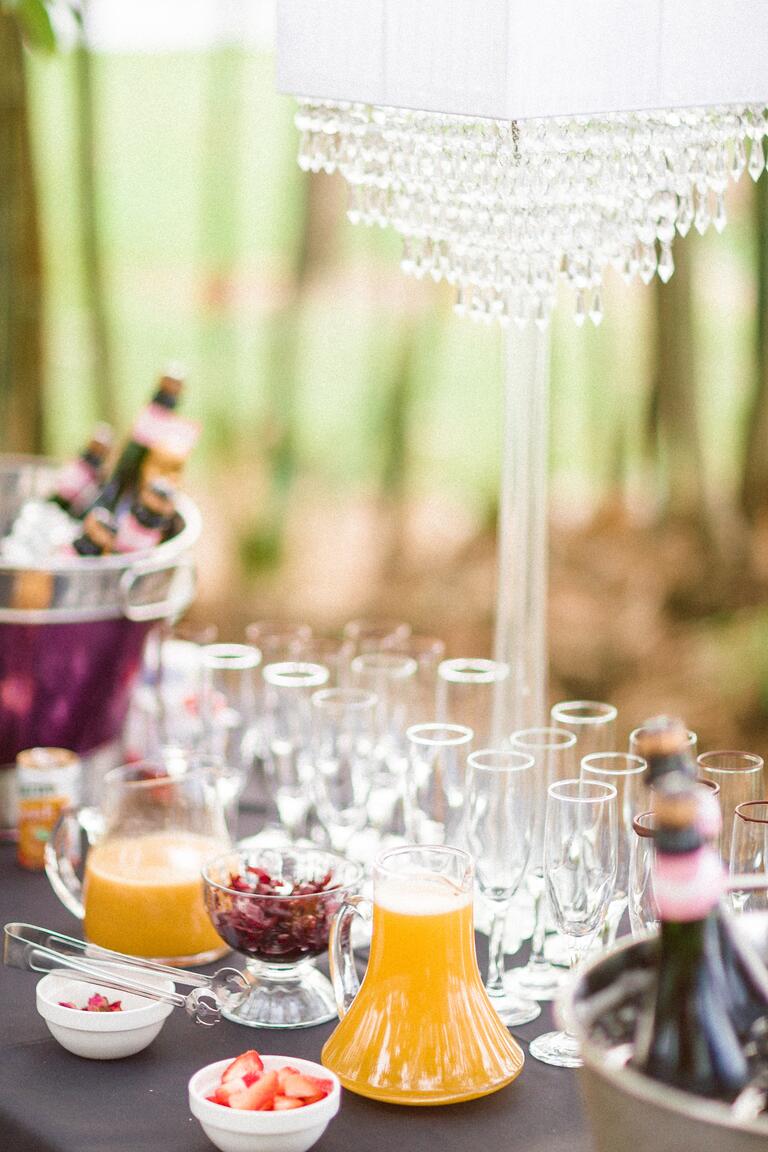 Having a bar at cocktail hour or dessert where guests can customize their own bites or sips turns eating and drinking into an activity. Go simple with a bubbly bar before toast time, where guests can come up with their own twist on the standard Bellini or mimosa. Dishes full of fruit purees, lavender sprigs, citrus twists and flavored ice cubes that can be spooned into glasses of bubbly will make the toast that much more fun. Another idea we love? Have a pro on hand to lead them in the ins and outs of tasting beer, wine or whiskey!
Give Them a Break From Kids With Convenient Child Care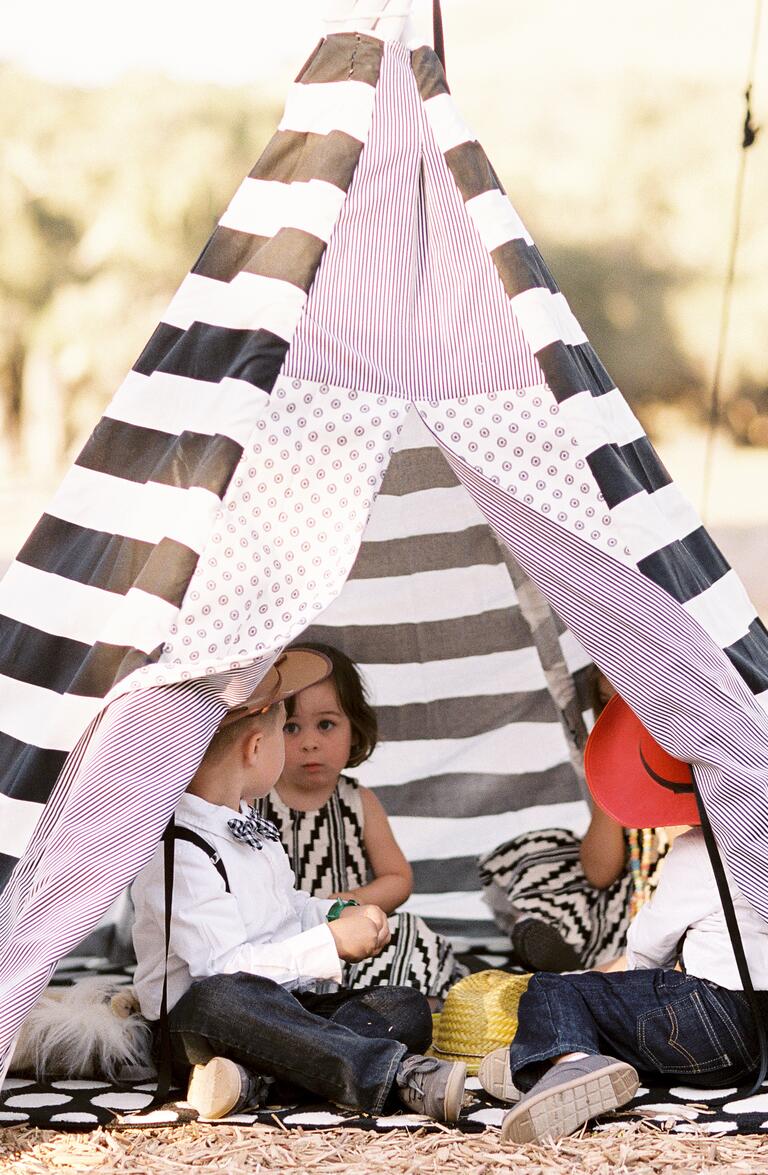 Kids at a wedding are pretty darn cute—until it's past their bedtime and crankiness sets in, which won't be fun for you or their parents. Hire a babysitter (or two) and set them up in a room, so your youngest guests have a place to go when they're tuckered out. If it's possible, pick a space near your reception location, so parents can stop by to check in on their kids and then return to the party easily. Stock the room with snacks, games and a portable DVD player to keep them entertained, and make sure there's a soft sofa and blankets for those inevitable naps.
Serve Foods They'll Recognize in a Gourmet Way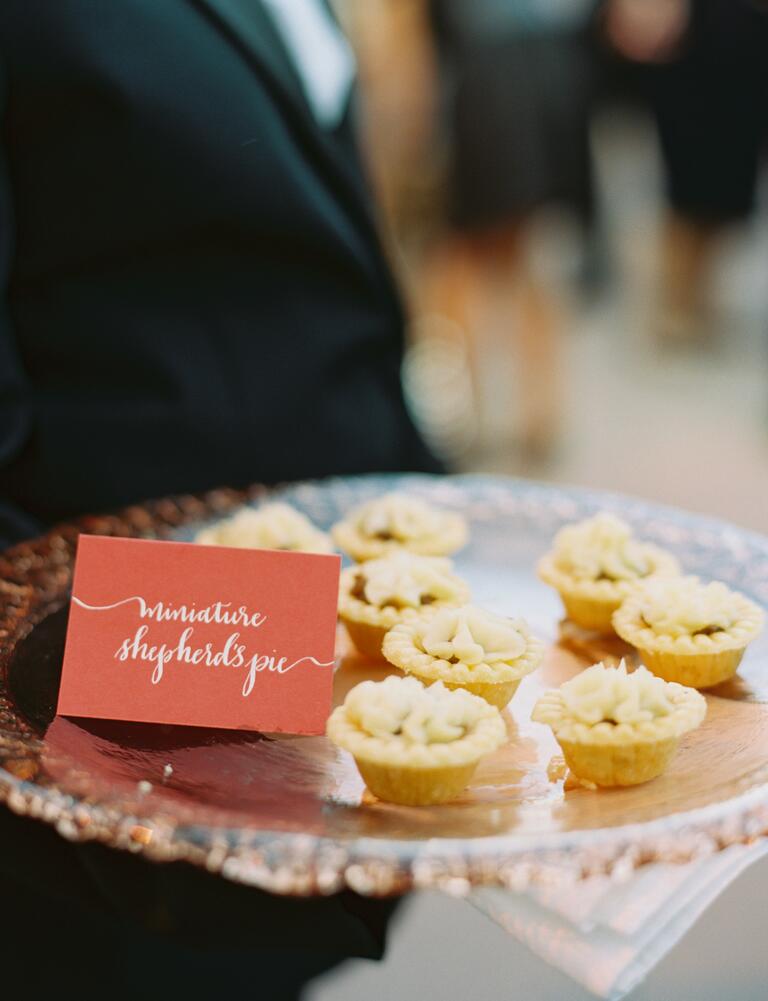 You don't have to serve foie gras for your food to be fancy. In fact, if you serve foods that suit a variety of palettes, you're more likely to have guests dig in. We're not saying get takeout from the pizza place next door (save that for the after-party!), but work with your caterer to come up with creative ways to serve everyone's favorites. Even simple grilled vegetables can wow when served in a cool color-coded design, and mini anything is always a hit.
Give Them a Place to Relax With a Luxe Lounge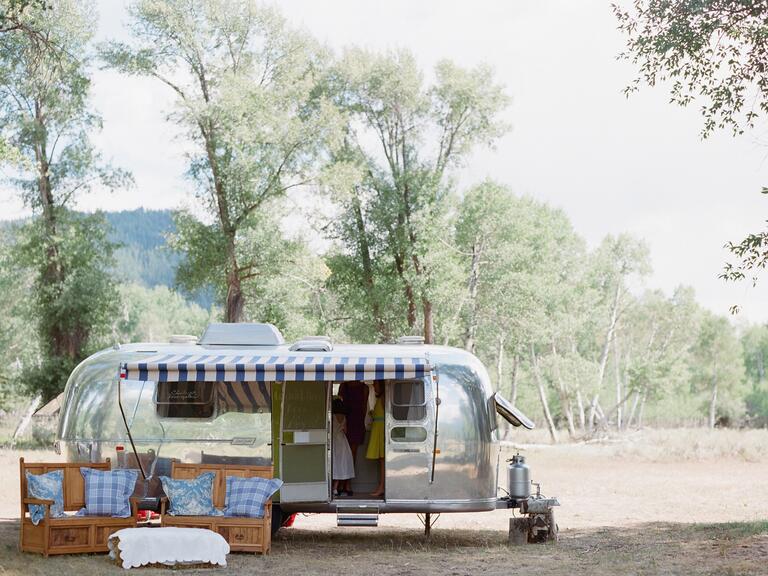 Your guests are going to be hitting the dance floor—hard. So give them a place to relax during dance breaks by creating a lounge area at your reception. The key is comfort: Fill the space with couches or chairs and plenty of pillows. Do this and you'll keep everyone partying longer because they'll have a chance to recharge. Really want to wow 'em? Close off the area with curtains, or, if you're outdoors, set up "glamping" lounge tents to create a VIP vibe.
Give Them a Say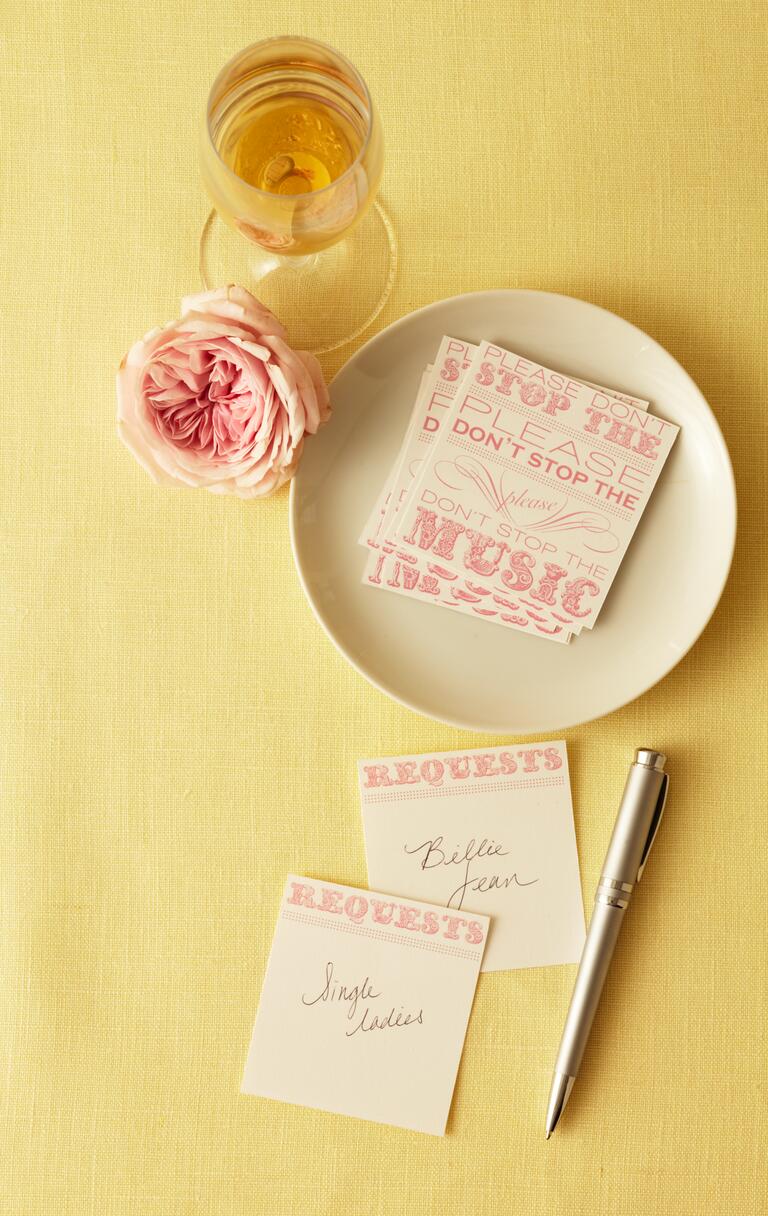 Use your RSVP cards or wedding website to get guests' input on a fun element of the wedding, like the music or the food. The classic is to ask for song request write-ins on the response card, but you can take it a step further and have the DJ only play guest requests for a half hour and do a shout-out to the guest or couple who submitted it. You could even have guests vote on your top tier flavor or signature cocktail. Everyone will love seeing details they helped choose at your wedding.
Thank Them With Valet Gifts Instead of Traditional Favors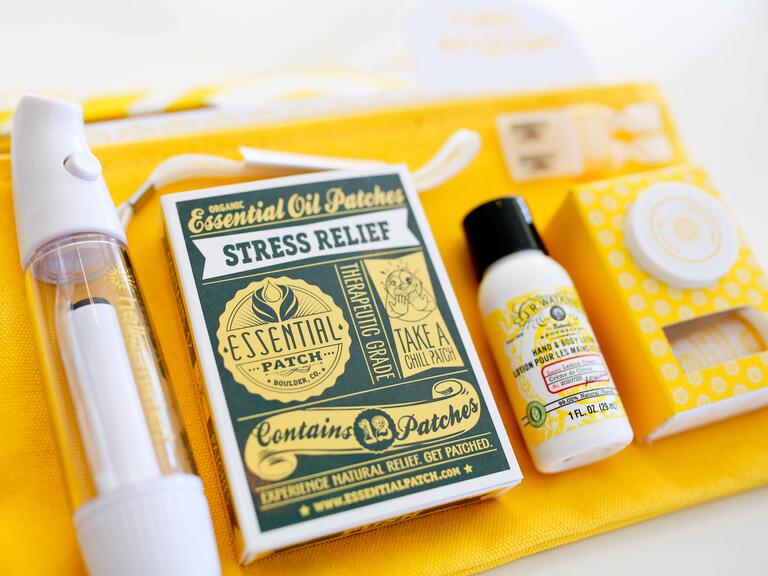 Instead of giving guests keepsakes that might not even make it into their suitcase, have your valets hand out gifts they can actually use the night of or morning after your wedding. No valets? Set out baskets of gifts, such as soft eye masks with notes that say "Sleep tight!" or even hangover kits, for guests to grab on their way out of the reception venue. If you've arranged bus or shuttle transportation, have a favor waiting on board for them.
Keep the Party Going With a Hip After-Party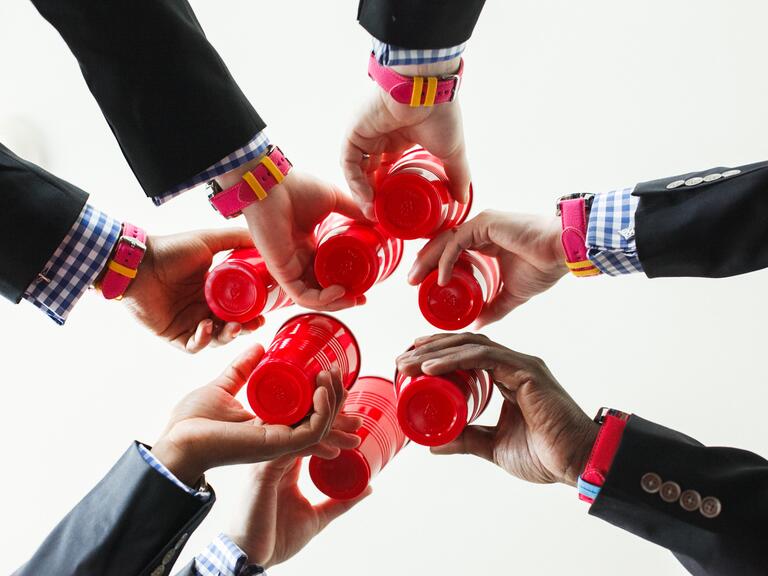 Instead of ending up at the hotel bar when your venue closes, plan a true postwedding bash for you and your hardest-partying guests. Book a space with a completely different vibe from your reception (like a relaxed patio bar or a karaoke club to offset a formal ballroom) and keep the party going into the wee hours.
Feed Them Twice With a Midnight Treat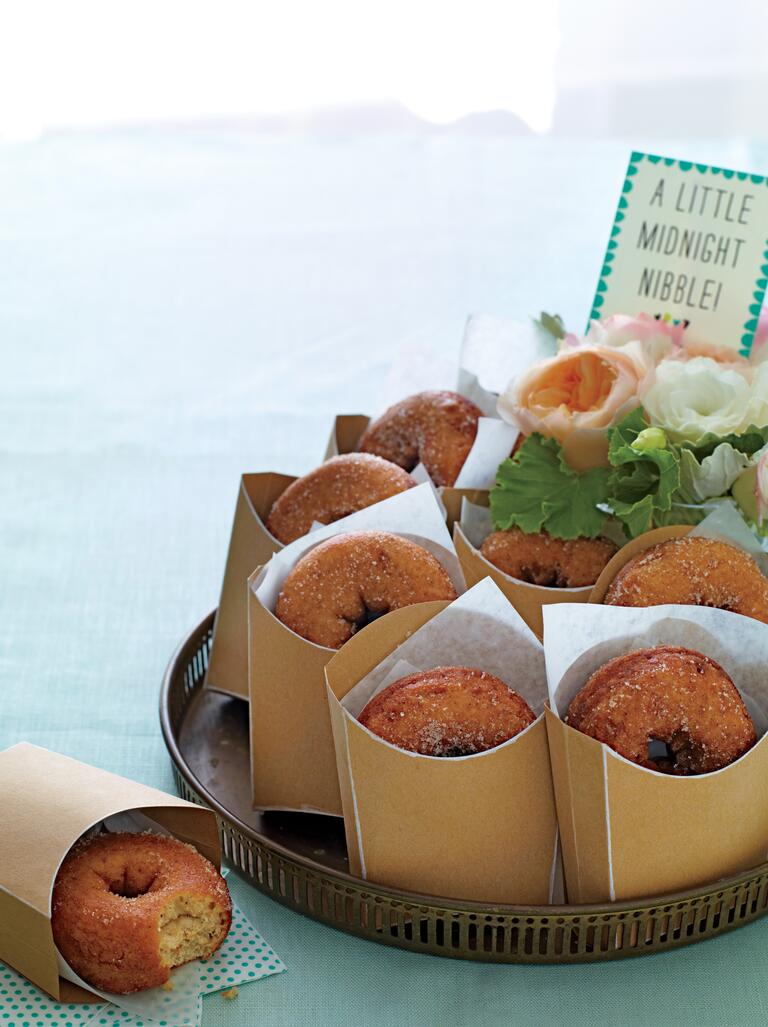 Pass Out Party Favors